Culture Days are coming up !
September 3, 2018
2023-04-25 15:26
Culture Days are coming up !
Culture Days are coming up !
For my non Canadian readers, Culture Days is a annual pan Canadian event aimed at promoting public participation and engagement in Art. For a weekend many artists studios, music schools, theaters, community centers… organize free activities, preferably with participation of the public . You can read more about Culture Days on their website here.
I love Culture Days because it is what got Sophie and I to think more about collective art projects and what prompt us to design The Big Picture Art Project. The common point between all the projects we organized was to make art accessible: We believe that everybody is an artist and deserve to know the joy of being creative.
Here is what we are going to do this year and what we did the previous years.
This year: Family fun art
Organized by Sandrine Pelissier and Sophie Babeanu
We are passionate about making art accessible. We believe that if you can write, you can draw.
Every year we organize a Culture Days event that will reveal the artist in you in a fun and relaxed environment.
Everybody is an artist!
We truly believe that art is for everyone and we designed a fun activity that will have you make a unique picture, easily and in no time. All you have to do is relax and let your imagination do all the work.
This activity is suitable for kids all ages as well as for adults, even the adults who could not draw to save their life.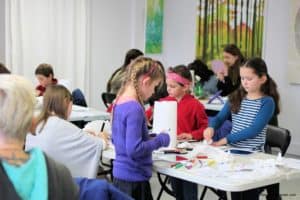 If you like the picture you made, Sophie and Sandrine will help you upload it to the Big Picture Art Project, and online collective art project where artists from everywhere in the world are sharing drawings and stories.
When :
Sunday Sept 30 : 10 am to 4 pm
Where:
Previous Culture Days activities
Culture Days 2015: A tree cookie filled with words of wisdom
Participants in the studio and from all over the world (through internet) were asked to share a few words of wisdom and write them along the rings of a tree cookie drawing.
On the weekend of Culture Days people were asked to listen to a recording of Sophie's voice to guide them and help them find some words of positive wisdom to share on the project. They had to write their message on a piece of paper before copying it on the drawing, so they could be sure about what they wanted to share before writing on the art work.
Culture Days 2016: Everyone can do it! The no-phone selfie
In 2016, we shared with studio visitors a simple technique that allowed them to easily draw a self-portrait.
They could outline their reflection on a mirror with washable felts and then make a monoprint directly from the mirror drawing.
Culture Days 2017: Everyone can draw
For 2017 Culture days, we did organize a drawing workshop in my North Vancouver studio to facilitate participation in the Big Picture Art Project, our new collective art project.